Inside Leigh
Leigh is situated in the south of Lancashire, in the borough of Wigan, and is well known throughout the Northwest region for its rich industrial past.
Leigh is easily accessible for all parts of the region including via canal boat, being situated on the junction of the Leeds to Liverpool and Bridgewater canals.
A traditional Lancashire market town, Leigh town centre has seen a number of regeneration initiatives in recent years including pedestrianisation, quality bus routes, a new outside market and a town centre management initiative.
The town centre has a large and popular market plus a wide variety of multiple and independent retailers. The Spinning Gate Shopping Centre, recently extended and renovated, has nearly 40 retail units on one level and offers a family friendly atmosphere.
The bus station and Leigh Market Hall are all located centrally in the town close to shops and car parks.
As well as a large variety of shops, Leigh town centre also has a public library, the largest in the Borough, and an art gallery, both housed in the Turnpike Centre on the Civic Square. This is also the home of the local history department with details on the local area and town centre trail.
The Civic Square in front of the Town Hall is the focal point for a number of community activities
Famous people associated with the Town include:
– Author James Hilton, whose novels include Goodbye Mr Chips
– The late Linda Lee Potter newspaper columnist
– 1960's pop star Georgie Fame
The Town offers a number of parks for outdoor recreation and Pennington Country Park, with Pennington Flash, provides some of the best sailing and bird watching facilities in the region.
Sport plays an important part in the life and history of Leigh. It has a successful Rugby League Football Club 'Leigh Centurions' and rugby union is also well represented in the area, along with football, cricket and athletics. The £83 million Leigh Sports Village is the biggest investment in public sports, recreational and educational facilities in the Borough for many years and will transform Leigh into one of the finest hubs of activity in the North West.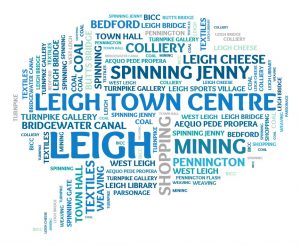 Useful Links
Leigh Sports Village
Wigan Council
Leigh Centurions
Leigh's Parks & Countryside